Card tricks, visual arts, and other illusions
With the support of the Wihuri Foundation, the Kerava Art and Museum Centre Sinkka explores the many intersections of art and magic. For example, many techniques used in contemporary filmmaking were originally developed by magicians.
According to Pablo Picasso's famous quote, art is a lie that helps us understand the truth. Art is somehow based on illusion, and an impressive artistic experience ultimately arises through the imagination.
In their fall 2023 exhibition, the Kerava Art and Museum Center Sinkka combines art with a different kind of illusion – magic. The artists of the Magic! exhibition are both art and magic professionals, bringing mechanical magic machines, a ghost seeking an escape, and an endless mirror labyrinth to the museum.
"The idea is to explore how magic can also be art. There are many intersections between art and magic, even though it may not be so obvious to many," says Kalle Nio, the curator of the exhibition.
Nio himself is accustomed to navigating between different art forms. He is a visual artist, magician, and theater director who utilizes experimental film, stage magic, circus, and visual theater in his work.
According to Nio, people's perception of magicians is still narrow, even though the field of magic has diversified in recent years and taken on many new forms. One of the central ideas of the Magic! exhibition is to make visible the fact that magicians can be more than just light-hearted entertainers, and their methods are also interesting from an artistic perspective.
"
It's interesting to consider why something feels like magic to us while something else doesn't.
"The human mind has a need to believe in something impossible. Magicians know that it's difficult to deceive people, but it's easier to get people to deceive themselves," Nio says.
Magic employs certain clues or elements that help people create a mystery in their minds.
"In away, the same kind of thing happens in visual arts when viewers create something beyond the surface level in their own heads."
ANALYSIS AND ENCHANTMENT
The works of the Magic! exhibition come from various parts of the world. Some have been created specifically for the exhibition, while others are Nio's discoveries from international exhibitions he has actively explored for years. In total, there are 18 artists working with magic and visual arts from ten different countries.
The goal has been to create a comprehensive exhibition that analytically examines the theme of magic but also leaves room for genuine enchantment and wonder. The exhibition is loosely divided into three parts.
One focus is on the relationship between moving images and magic. This theme is closely tied to contemporary questions: we spend a significant portion of our time staring at screens and videos, and various image manipulation techniques and tricks are constantly evolving.
However, film also has historical connections to magic. Originally, moving images were a magic trick.
"Many of the techniques used in contemporary filmmaking were originally developed by magicians. People still watch movies in theaters because they became accustomed to watching them in magic theaters," Nio explains.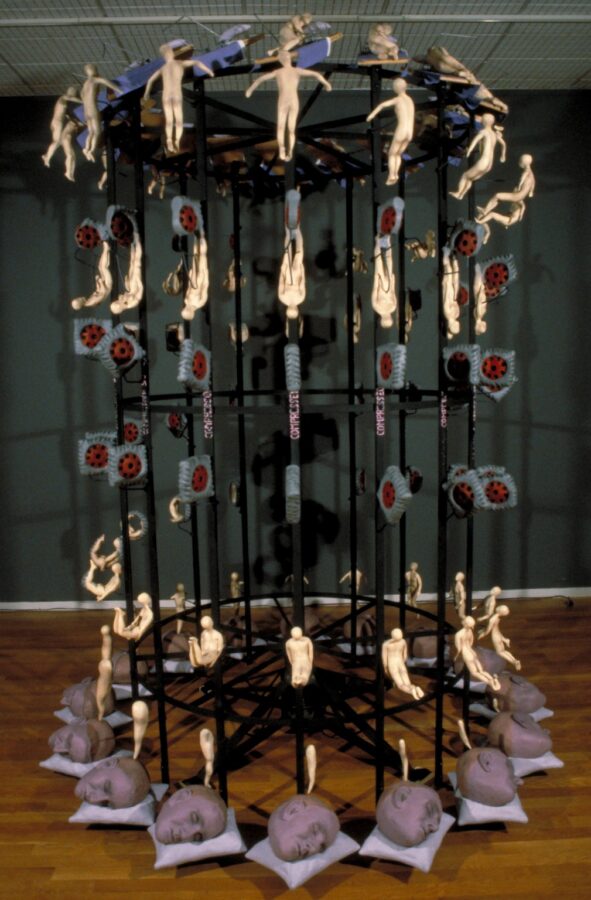 In the exhibition, the parallel histories of film and magic are illuminated by artists such as Gregory Barsamian, who brings a massive, three-dimensional zoetrope from New York to Sinkka. When you look at the spinning cylinder, the sculptures on its surface come to life and start moving.
French artist Etienne Saglio creates a "genuine" ghost that flies around the exhibition space.
A GLIMPSE BEHIND THE CURTAIN
At Sinkka, the curtain of illusion is also lifted, and magicians' secrets are revealed. In the magic performances related to the exhibition, Miika Pelkonen, one of Finland's most well-known magicians, performs a card trick called "The Trick That Cannot Be Explained." The key to this trick, made famous by Canadian Dai Vernon, is that it is entirely improvised.
"The magician needs to find the viewer's card in the deck, but there is no predetermined plan. In the moment, you have to try different techniques and also rely on chance, but a good magician makes it work every time."
Some of the works explore the deeper essence of magic and the limits of what magic can be. Belgian artist Marjolijn Dijkman presents a video work titled "In Our Hands," which follows a mystic choreography of hands. The video combines sacred hand gestures, such as those made by a priest, with everyday gestures like entering a PIN code. Antoine Terrieux's work features magical houseplants that move on their own.
"It's interesting to consider why something feels like magic to us while something else doesn't. In today's society, there are many things and processes we may not fully understand, but they are still normal for us," Nio says.
A LONG-TIME DREAM COMES TRUE
Sinkka has a history of organizing exhibitions that venture into the borderlands of visual art, and according to museum director Arja Elovirta, Magic! fits well into the same line. The realization of the exhibition has been a shared dream of Elovirta and Nio for over a decade. The idea was born back in 2012 when the Kerava Art Museum was still located in the Klondyke House in Savio.
"Kalle and his magical works were part of the farewell party for the art museum's move. We talked and got excited about the idea of creating a larger project in Sinkka," Elovirta explains.
The plan remained at the idea stage at the time because there simply weren't enough resources for the ambitious and labor-intensive international project. Over the years, the idea of a magic theme has periodically resurfaced. Now, the exhibition is realized with the support of the Jenny and Antti Wihuri Foundation's "kummimuseo" funding programme.
Building an exhibition that includes technical magic elements is challenging, especially when nothing like it has been done in Finland before.
"We don't yet know exactly how everything will work. But I hope and believe that something unprecedentedly wonderful will come out of this," Elovirta concludes.
The Magic! exhibition is open to the public at the Kerava Art and Museum Center Sinkka from September 9, 2023, to January 7, 2024.
The kummimuseo programme of the Jenny and Antti Wihuri Foundation is a form of support for visual arts that began in 2017. Its purpose is to invigorate visual arts activities across Finland by offering art museums opportunities for new experiments beyond their limited budgets.